Tripawds is a user-supported community. Thank you for your support!
Izzy signing in,
We are on an adventure with Mom and Dad. They must like this place as we keep coming back. What I hear is that the campground is in the middle of a golf course. Weird, right? The cool part for us is that we all get to go and run "free". Well my brothers and sister get to run free. I am attached to Dad. Apparently I am not trustworthy off leash. You know, the woods look like so much fun to run in. I would come back, I really would. I know, I would not come back for like an hour, but I would come back. Any how we all get some exercise.
Each morning, Mulligan is a big goofball, making lots of goofy noises and just being a real pain. Mom takes him for a run on his own. She takes a frisbee and he chases it. Sometimes he hides on her. Below is him hiding. What a silly boy.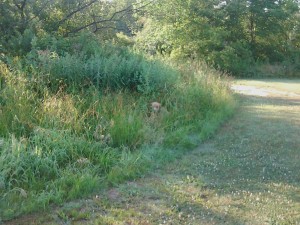 He plays this game, then Mom comes and finds him.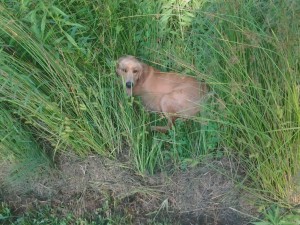 He is such a good boy. When they return, he is tuckered right out.
We are off to another new place to visit. I will keep you posted.
Until next time,
Izzy