Tripawds is a user-supported community. Thank you for your support!
Good morning everybody!!!! Izzy signing in.
Mom just realized we have not been updating our adventures for  you since January. Oh my, we have had a few adventures and no life changing events. All in our family are happy and healthy. We are so thankful for that. Now on with our adventure of the spring.
This year we all piled in Big Red, pulled my mobile house behind us. It was great, we were all together. This is Hank riding next to his younger brother.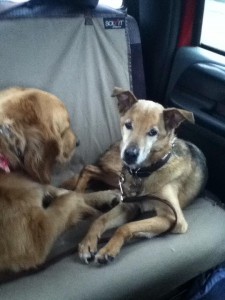 This year we traveled to Washington D.C.. Our first stop was in Pine Grove, PA. Oh man, it was great. The campground had a dog park which we all enjoyed. Below is a picture of our first night out. Sorry none of us are in the pic but Mom took it when we were walking back from the dog park.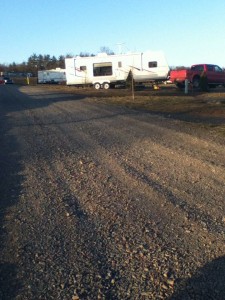 After going to the dog park, Mulligan took over the couch.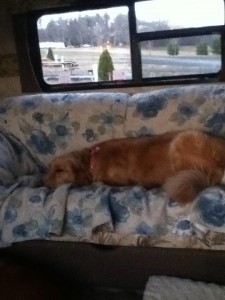 In the morning, Mulligan and I went to the dog park again to play. It was great, we said good bye to some of the travelers while getting some good exercise in.
Mom and Dad navigated around Baltimore then to College Park, MD. There is a wonderful rv park, Cherry Hill Park, which also has a dog park for all of us to play in. You will never guess who showed up and gave us all a big hug, GRANDMA and KENT!!!! They drove up from Florida to be with us. That was so cool. Each morning Mom and Dad would take all of us to the park for a good romp. Mulligan of course has to have special time with Mom, here is a video of him at the dog park one morning. (There is sound.)
Mulligan getting his morning exercise.
Each day Mom and Dad left me in charge and they went off to tour the nation's capitol. Here is another video Mom made for all of you to enjoy. (There is sound.)
Changing of the Guards at the Tomb of the Unknown Soldier.
We spent a week having a great time. Below is a picture of our last campsite, back at Pine Grove. Oh, on the way down to D.C. this campground was a KOA. When we returned a week later, it no longer was a KOA. Either way, it is a really nice campground. We will stay there again.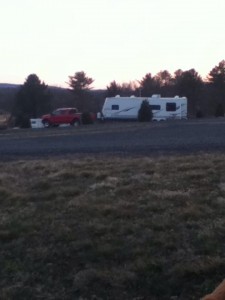 We made it back home safely. It is nice to go on vacation, but there is no place like home. I am back to sleeping on the bed with Mom and Dad!!!!
Until next time,
Izzy signing out