Tripawds is a user-supported community. Thank you for your support!
Izzy here,
Oh my whatever am I going to do about my golden brothers? First I lose my brother Ted E Bear, now Mulligan had a mast cell removed from his right rear leg. Our vet is wonderful, she removed the tumor, sent it away to be tested. The results showed a grade 2, whatever that means. Mom said because the tumor was wrapped around an artery, they could not remove the number of cells they normally like to remove. The bottom line is: Mulligan will be on 50 mg of benedryl twice a day for the rest of his life. It is our understanding that mast cells release a histamine which is the reason for the benedryl. Our job is to give Mulligan a good full body check for other bumps. He may never have another tumor again or it can come back. We are all staying positive and moving on.
My brother is a goofy boy, I love him so. He gets playing so hard I just look at him and laugh to myself. There are times he jumps around like a bucking bronco. What a goof.
We all have had many adventures this past year. Hank and Missy are still with us, they are 14 and 13, respectively. This spring I hear we are off to PA to visit Hershey Park. That will be fun. Oh Mom has been able to find campground with dog parks. Those are wonderful. We get to run and play with each other.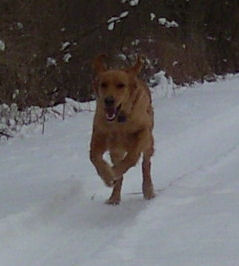 That is it for now.
Until next time,
Izzy signing out.